Power Tool Accessories Expert—EZARC Tools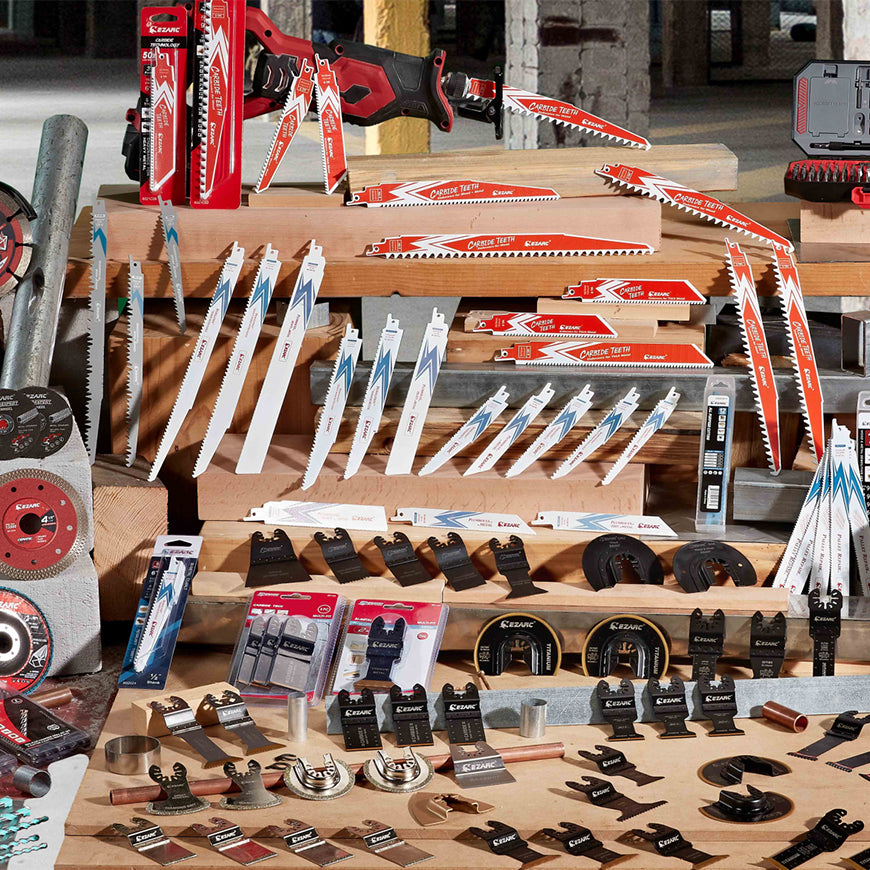 Article by John
A power tool is a motorized hand or a portable power tool; these designations set it apart from fixed power tools like a drill press. While power tools are often powered by electricity, the category also includes tiny pneumatic instruments, such as air impact wrenches and hammers, powered by compressed air. Gasoline-engine-driven tools (gas-powered drills, chain saws, etc.) are not included.
Electric drills and circular saws are the most often used power tools. An electric drill rotates a tool bit much like its manual equivalent. However, the circular saw lacks a manual counterpart. Electric screwdrivers, sabers, and reciprocating saws have well-known blades, but many power tools are modern inventions based on the pervasive electric motor. Polishers, various sanders (circular, belt, oscillating, and reciprocating), shears, and nibblers are examples of contemporary power tools. Before World War II, there was only a small amount of commercial and industrial usage for power tools. Today, millions are created, primarily for the home workshop.
Power Tool Accessories by EZARC -
At EZARC, quality assurance has always been a top priority. Before a product was released, process control and quality inspection were integrated into every manufacturing line, lab test, and field test to guarantee a consistent and high-quality end product.
We at EZARC believe in quality assurance because our quality control is well established. Our products include Power Tool Accessories of the following categories, all available with customization:
Reciprocating Saw Blades
Hole Saws
Cutting & Grinding
Oscillating Multi Tool Blades
Drill Bits
Reciprocating Saw Blades -
In terms of reciprocating saw blades, EZARC is the authority. To give the best Sawzall blades for professional and do-it-yourself users, we separate reciprocating saw blades into numerous TPI and product materials based on the function materials, such as metal Sawzall blades and wood Sawzall blades from 3 TPI to 18 TPI. EZARC Carbide Sawzall Blades 8TPI for Thick Metal, Cast Iron, Alloy Steel, and EZARC Wood Pruning Reciprocating Saw Blade 9/12 Inch Sharp Ground Teeth CRV Long Lifetime Sabre Saw Blades 5 TPI are a few examples of our reciprocating saw blades.
Saber Saw Blades/Reciprocating Saw Blades are appropriate for materials with thin and thick walls, such as metal, wood, FRP, composition materials, etc.
 Hole Saws -
We offer our consumers the most comprehensive selection of hole cutters and professional services. In addition, we provide the widest variety of hole saw sizes and offer professional hole saw kits for professional and do-it-yourself customers. Besides having the highest quality available, our product is also the most cost-effective carbide hole saw on the market.
A few of our hole saw supplies are as follows:
EZARC Bi-Metal Hole Saw Kit for Hard Metal, Wood
EZARC Carbide Deep Hole Saw 1 Inch Cutting Depth for Stainless Steel, Metal Pipes, and Hard Material
Cutting & Polishing -
EZARC offers a wide range of circular grinding and cutting tools. Our flap discs come in various grids, including 40, 60, 80, and 120 grit flap discs, which are among our top sellers. Additionally, we provide superb metal cutting and diamond cutting wheels made of carbide material.
A few of our cutting & polishing discs are listed below:
EZARC 40/80 Grits T29 Flap Discs Zirconia for Stainless Steel, Sheet Metal
EZARC Diamond Cutting Wheel With 5000+ Cuts on Rebar, Steel, Iron, and Inox
5 Inch 8 Hole Sanding Discs, Hook and Loop Sandpaper,180pcs SandPaper Assortment for Random Orbital Sander
EZARC 5 Inch Diamond Blade, Segmented Diamond Saw Blades for Angle Grinder, 5" Stone Blade for Cutting Concrete Stone Masonry Brick Block
Oscillating Multi Tool Blades -
EZARC is renowned for its oscillating multi-tool blades, tested by several developers, merchants, and others.
The multi-Fit interface on the premium oscillating saw blades offered by EZARC fits most oscillating multitools. The two additional adapters included in the bundle cover more tools than any other competitor on the market.
EZARC Carbide Oscillating Multitool Blades Heavy Duty
EZARC Bi-Metal and CRV Blades Oscillating Multi Tool Blade Kit
EZARC Semi Circle Diamond Oscillating Tool Blade for Grout Removal and Soft Tile Cut
Drill Bits -
High-quality carbide drill bits, such as tungsten carbide drill bits and hammer drill bits, are available at EZARC. Our strong, premium tungsten carbide head offers extended life in various materials, including metal, wood, plastic, fiber cement, brick, block, and tile. Additionally, the Hex Shank enables use with impactors and hammer drill/drivers for excellent bit grip.
EZARC SDS-Plus Hammer Drill Bits Concrete 4-Cutter Carbide Tips for Reinforced Concrete, Masonry, Marble, Brick, and Tile
Hand Tools -
We offer Hand Tools for daily use that include tools for woodworking, gardening, screwdriver, handicraft, wrenches, flooring, and plumbing.
Applications of Power Tool Accessories -
Flap Discs, Flap Sanding Discs, and Zirconia Grinding Wheels are particularly useful for de-rusting, deburring, and polishing stainless steel (Inox), cast iron, and sheet metal.
All metals, including sheet metal, rebar, iron, copper, aluminum, and several types of pipelines, may be cut using a diamond cutting wheel.
The major uses ofoscillating multi-tool blades for cutting nails, wood, and metal are to cut through hard materials, including hardwood, stainless steel, cement board, fiberglass, and sheet metal.